Overview:
STQC has created a network of third party independent component test laboratories in India. These labs have state of art facilities to test typical consumer and professional-grade components to various National/International specifications. Laboratories undertake the following in component testing: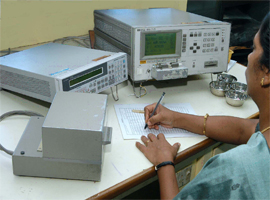 Type Testing: Laboratories undertakes type testing of Electronics Components as per standard specifications like IEC, IS, JSS, DOT, MIL, RDSO, C-DOT, etc.
Burn IN: Labs have developed special jigs and fixtures for taking up the burn of the components in large volumes.
Screening: Almost all types of components can be put in the screening sequence as per the National / International and Departmental (C DOT, DOT, RDSO, DRDL, etc) specifications.
Third-Party testing can be taken up whenever an independent test report is required for evaluation of the quality of the components.
IECQ Certification: The evaluation quality system, production process, and independent testing arrangements can be done for component manufacturers to meet IECQ requirements.
Acceptance testing: Tests pertaining to Acceptance and rejections of the lot can be performed in the Laboratories.
Environmental/Durability tests on the components can be performed as the infrastructure required is already established.
Components Tested: Resistance, Capacitance, Inductance, Diodes, Bipolar Transistors, FETs, UJTs, SCRs, ICs - Linear as well as Digital, Hybrid Devices, Electromechanical, Electromagnetic, Optoelectronics, PCB and Laminates, etc.
Recognitions and Accreditation:
Test laboratories approved by BIS, DOT, RDSO, ISRO, DRDO, MNES, DG Mine Safety & Chief Controller Explosive and DG Shipping
Recognitions in comparative / proficiency testing and evaluation of consumer electronic/electrical products (for consumer associations)
Services Offered:
Active Component
Passive Component