Overview: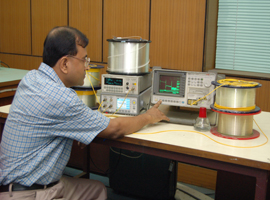 The Opto Electronics testing facility was started at ERTL (East) Kolkata, to provide testing facilities for Optical components, Equipment for evaluation of optical and photometry parameters during the year 1990. The facility has also been extended in other Lab ERTL (N), Delhi, ERTL (W), Mumbai, ETDC Guwahati, ETDC Bengaluru, etc.
Recognitions and Accreditation:
All the services have national and international accreditation. The testing is done as per facilities are recognized IS, IEC, MNRE, WEBREDA, JREDA & other standards/specifications.
Services Offered:
The testing services include the testing of Laser, LED and LED clusters, Photo Diode / Transistor, Opto Coupler, fiber optical cables, etc. Some of the important parameters such as Wavelength, Optical power, Optical Attenuation, Luminous Flux, Luminance are measured.
The laboratory also provides a test facility for Solar Photovoltaic Systems and Batteries, Solar Panel, CFL & LED Based Home Lighting System, Street Lighting System, Solar Lantern.