STQC operates third party ISMS certification scheme based on the ISO/IEC 27001 standard and offers ISMS Certification services since November 2001 to its valued clients in India and abroad.
The Certification Scheme is accredited by National Accreditation Board  for Certification Bodies (NABCB), Quality Council of India, vide Accreditation no:ISMS003.
Scope
Authorised to certify any type of organization operating in any industrial, commercial or public sectors.
Public demonstration
Enhanced corporate image
A positive response from potential customers
Ensure management commitment
Drives forward improvement process
First internationally recognized certification body in the country for Information Security Management Systems.
A team of competent ISMS lead auditors/auditors qualified as per international requirements.
Government of India organization, able to act truly as an independent third party, with high degree and confidentiality and integrity.
Able to offer services in a very cost effective, competent and credible manner with customer care as the focus.
Member of the ISO Committee responsible for development of ISO/IEC 27001 standard.
Client profile
Client profile includes IT, ITeS, Banking/ Finance, Telecom, Healthcare, Automobiles, Manufacturing, Data Center, Public sector and Government organizations.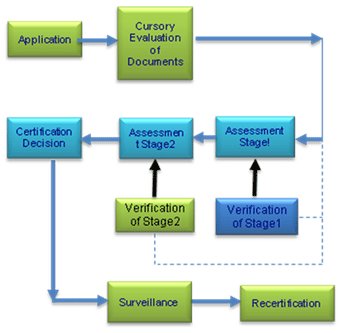 Documents required with Application form Client :
Security Policy documents
Statement of Applicability (SoA)
Scope (in case a separate document on scope and boundaries exists)
Forms (downloads)
STQC Policy for Transition to ISO/IEC 27001:2022 556.36 KB

Certification Agreement 556.36 KB

IT Certification Policy 68.14 KB

Complaints/Disputes 208.75 KB

Expansion/Reduction of scope 177 KB

Use of Logo 190.32 KB

Sample Certificate of Compliance 390.21 KB

Status of Suspended/Withdrawal 324 KB

Assessment Process 328.54 KB

Plug-in: Download Adobe Acrobat Reader

Contact US
Name and Designation
Address
Phone/Email/Fax
Atul Gupta, Scientist G

STQC Directorate
Ministry of Electronics and Information Technology.
Electronics Niketan, III Floor, 6,CGO Complex,
Lodi Road,
New Delhi - 110 003

Phone: 011 - 24301372
Email: atulgupta AT stqc.gov.in
Fax: 011 - 24363083